Soundcradle, Children's sound cradle
Soundcradle
Children's sound cradle
■
Experience sound up close
Embedded in the sound of the cradle a pleasant feeling is created. You literally lie in the middle of the sound centre.
This special custom-made product reproduces the round, soft sound, which is produced in very strong vibrations through the wood (no industrial product) is transported. This micro-vibration is then transmitted to your body. It is perceived as very pleasant and relaxing. Just like the buoyancy of water. A massage takes place which works in a very fine and energetic way. The cells and the energy channels are stimulated with new information. and sound waves strengthened.
But the sound can do even more, it touches your innermost being, your soul. You come to rest and can thus recharge your batteries with new strength and energy.



Sound recording of the cradle
SPECIALITIES:
Soundcradle and children sound cradle are made of real wood. The round lying surface is glued from many individual strips. As I know, this is the only construction method in the German speaking area, which is based on the traditional canoe and kayak construction.
This technique results in an even more effective sound and the "special more" of vibration energy of the wood.
The soundcradle is designed for adults up to 120kg load capacity.

... Children`s soundcradle ...

... Children's sound cradle in action ...

...large Sound cradle...

..simple double sided play..

...converted to a sound chair...

...for concerts or sound chair...

... even more strings than the old cradle ...

...with headboards to put down...

converted to a seat

... so much fun ...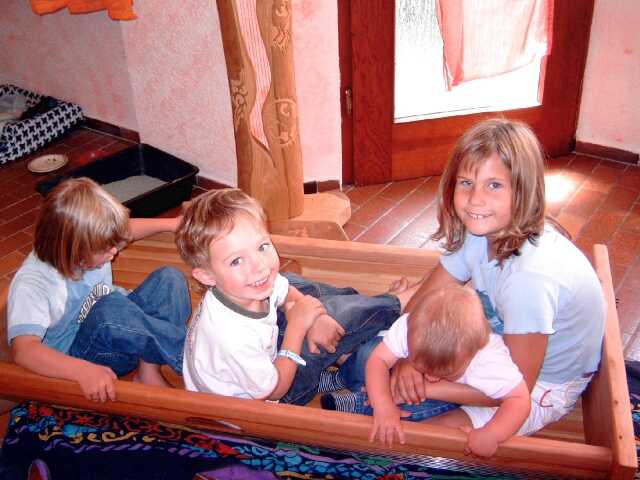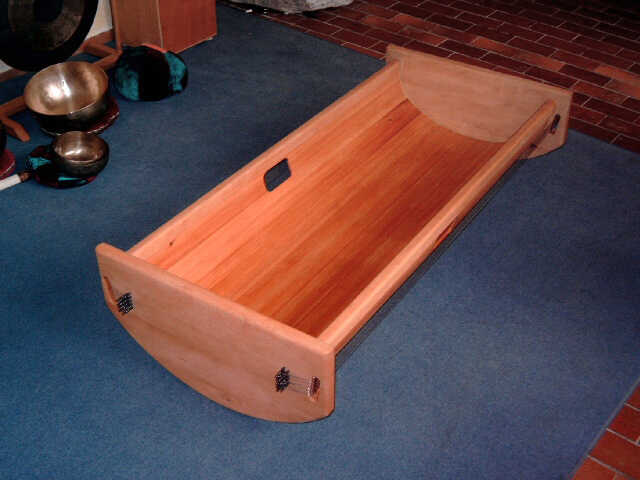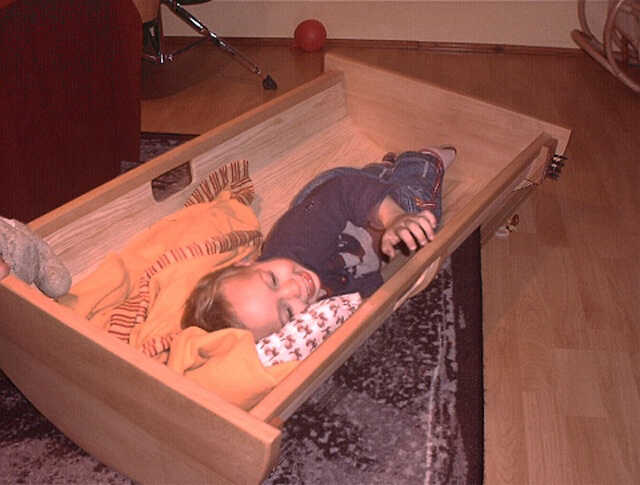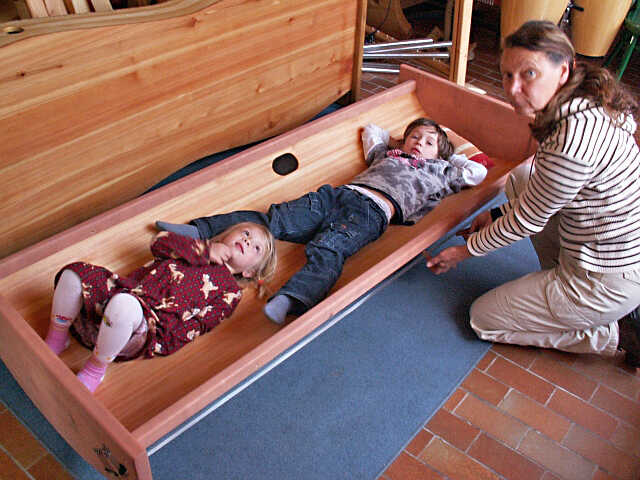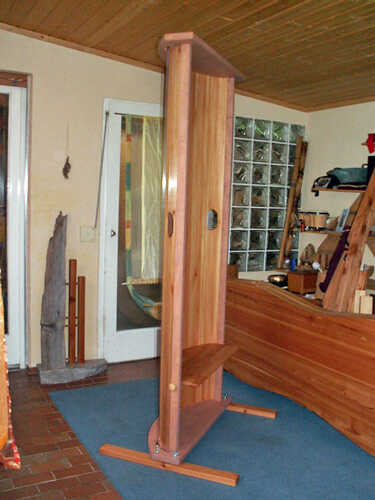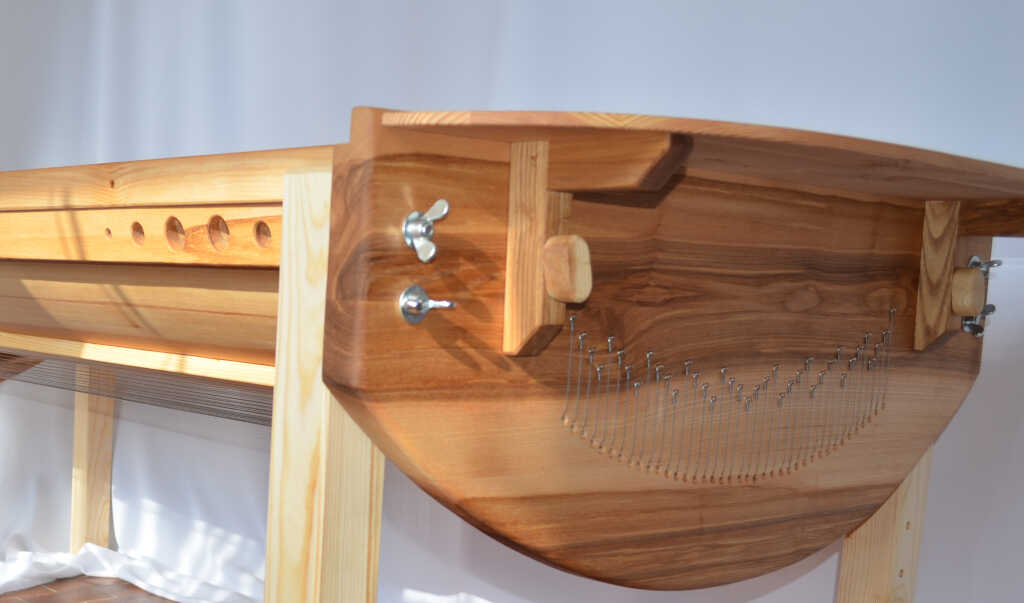 VARIOUS APPLICATIONS
Birth trauma is a shorthand phrase for the post-traumatic disorder after childbirth and can be released - under guidance of a therapist - to find a satisfying and relieving solution.


The fears of life and survival - centred in the "Muladhara" Chakra or root chakra can be relieved and give you the feeling of stability and safety.


The sound events, concerts and sound meditations are not only a "hearing" event, they result in a deep and intensive feeling of sound..


Panic attacks and states of anxiety can be harmonised.


Panic attacks and feelings of anxiety can balanced Hyperactive or short-tempered children wind down and become companionable.


Of course, just using it to enjoy and have a good time is the best way to use it for yourself.



Depending on the bridge position, the sound cradle varies between low A and E. C sharp is often also perceived as very pleasant and soothing. Special sound variations are of course possible.

Fitted with additional feet, the soundcradle can be converted to stand upright and is therefore suitable for also for sound concerts.

The size of the sound cradle is adapted to individual physical needs.
Whether toddler or adult, it is soothing and relaxing to be gently rocked and pampered with sounds.

Sound cradles are also available as a combination package.
With feet and a separate cradle plate, the cradle can be converted into a sound couch in a few easy steps.


"RESONANCE" / FEEDBACK
>
The soundcradle is very often used in the Klosterbergschule Schwäbisch Gmünd.
It contributes greatly to the basal development of our students. Especially our pupils with severe multiple disabilities enjoy the holistic sensory experience.
The sounds in combination with the vibratory experience contribute optimally to the improvement of body perception.
Wrapped in the sound space, some non-speaking pupils start to lute,
thus verbally contact the teacher; restless pupils come to rest, can relax and thereby concentrate on their bodies first.
We are very happy that we purchased the sound cradle from you and are also highly satisfied with your service.
Children's soundbed and body monochord in our nursery! Mr. Müller made this instrument for us without any problems on request, we were allowed to try it out for free
Our change requests were also all fulfilled. So that everybody, parents, children and educators are enthusiastic.
That's why it didn't take long until we ordered a body monochord from him.
Both instruments are regularly used in our institution. In our dream hour there are experiences that can hardly be put into words by the sound of the instruments.
An inner balance is established among all participants. These instruments are an enrichment for every day care centre! Thank you says the DRK-Kita-Rottorf!
LöwenKinder Frankurt (Oder) e.V. is a competence centre for families whose children suffer from serious or life-shortening illnesses
Through the use of the soundcradle ("Ernst Prost Foundation") made available to our children and young people we can implement our concept of wholeness even better
and are thus able to to relieve stress symptoms / pain or activate physiological functions through the resulting inner peace. The cradle not only benefits our Löwen Kinder, but also their families.

<
>